Sunday the 24th of June
We were at my parents house at Bli Bli, 10 kilometers from Avatar's Abode. The telephone rang around 8:45 am, it was Roy Hayes. Yes, Francis had dropped the body and close ones could come and visit at his cottage between 10:00 am and noon. We arrived at the cottage and were greeted by Patricia and Felix.
They embraced us and I went into Francis' room. The peace and warm naturalness in the room was indescribable. He was laying there with his green woollen scarf across the pillow. Purple and pink flowers were at the side of his head. He looked so young. He had looked so strained and in pain when I had visited him the Saturday before. His skin was translucent, and suddenly I felt a million feelings. The feelings decended on me and I cried like a child. I was swept with gratitude and found myself thanking him for my spiritual dignity.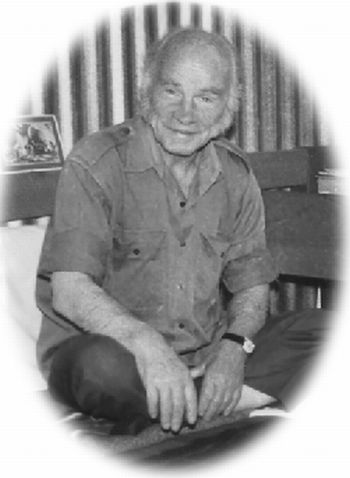 Photograph by Bernard Bruford




Francis Brabazon at Avatar's Abode where he lived after Meher Baba dropped his body in 1969.

It was Francis, who when all others thought I was strange, recognised my destiny to be a lover of the most beautiful Avatar of all. It was Francis, who drew me into his creative world as closely as I was able to go. It was Francis who demonstrated through his example how a lover of God could behave in every day life, with every action mindful of Him. I do not know how long I stood there feeling this gratitude. I did not want to move. I suddenly realised that others wanted to come into the room and that I should go. I kissed his temple and a tear fell near his cheek. I went into the kitchen and Patricia suggested tea. I gladly proceeded to make it. We sat there as various ones came and went. It felt so beautiful just being there.

At 12 o'clock, the undertaker came to take Francis to the funeral parlour. He would remain there until his funeral on Wednesday the 27th at 2:30 pm on Avatar's Abode. This was hard for me — to see him being taken away. I walked around to Baba's House feeling completely empty. In Baba's room, for the first time in years, I felt like a singer. I sang one song of Francis' after another. It felt so natural and the words of plays and songs he had written flooded over me.

We headed straight back to Brisbane. We had to activate the Brisbane phone tree. I wanted to call Sue Jamison as soon as I could. We spent the evening with Lorraine Brown and talked of days with Francis and The Abode until finally, this day was over.

Wednesday the 27th of June

I headed up the coast highway with Steven and Liz Hein to Avatar's Abode. We arrived there at 1:30 and I walked around to Francis' cottage. Patricia and I had received a very beautiful and personal cable from Sue Jamison and I wanted us both to have a copy each to take to the grave side. At Francis' cottage, the coffin was in the middle of the room a beautiful warm brown polished wood with silver handles. A plaque on the top was engraved: FRANCIS — BABA'S POET. His green woollen scarf and his brown cap were on top of the coffin, "ready to go on his last walk", Patricia said. The flowers were beautiful. The room's perfume made me feel sentimental. That empty feeling that had been with me on and off for these last few days returned. I embraced Patricia and Felix and felt that I would like to wait outside the Brufords' house with all of the others, who had come from near and far, to say goodbye to their old friend.

The pall bearers soon came through the clearing and onto the pathway leading to the grave site. Bill LePage, Liz Hein, Di Waidelich, John Grant and others were carrying the casket. Many came with their arms overflowing with flowers. My heart filled with love for all of my Baba family and I was overcome. I remember Roy pulling me into the procession behind Lorna and Robert Rouse. I proceeded to the grave site.

High up the hill we went, pine needles crushing under foot. Their clean smell filling the air. We came over the hill and down to the ridge above the old road. The coffin was placed there in readiness. The scarf and cap still at its head. I stood above it and realised that I was so elated. I felt, as I am sure that everyone else did; sweet sadness, joy, love and a peace and knowledge that everything in time was in its correct place and order 100%.

I looked out over the Pacific Ocean, the sky so blue, the warm sun streaming down, thick, like you could touch it, as it is in winter in the tropics. Boats were sailing, but being this high up, they looked a bit silly going in tiny circles on that huge ocean panarama. Mudjimba Island was aligned with the foot of the coffin. Roy was at my side once again asking me to stand at the bottom of the coffin with the other performers. Robert was there, ready to read the eulogy. Lorraine and Patricia stood there with me. I looked up and was amazed to see about 50 people up on the hill.

Dozens of children were in attendance all bringing flowers and laying them on the earth dug out of the grave site. It was school holidays so all of the children could attend. If it had not been school holidays, many people would not have been able to come. I saw faces that I had not seen at "Avatar's Abode" in 10 years. All eyes were red and puffy.

I did not dare look up the hill again or how would I get through my song: Robert's eulogy was beautiful and strong. It set the mood well. We all recited the "Master's Prayer." Then the telegrams were read. Rick Chapman's and the one from The Mandali stood out in my mind.

Next I sang, "House In The Rain". I had chosen this song because it was the first song Francis had written for me. It was in a scene from the play, "Being is Dying By Loving". Suddenly I was singing. I heard my high voice ring through the trees and I was swept away in song. I remember trying to recall another verse and then realised that this was the last line that I was singing. I felt weary and strange at the end of the song.

Soon I heard Lorraine's deep rich voice singing, "The Dawn Light Breaks". I opened my eyes — now I could look at that sea of faces on the hill. All looked so serious and yet so at peace. I was fine until I would look at that brown hat and green scarf on the coffin and then, once again, a million memories would flood into my mind. Funny moments, profound moments, hard moments, all with my old friend Francis.

Patricia read a beautiful ghazal — so much like Francis — Ghazal 117. Sam Saunders sang the best that I had ever heard him sing. The last line of the song, as it rang across the hills said," a poet is a bit of singing dust". We all joined in on "The Blacksmith's Song". Peter Rowan then read the last ghazal from "In Dust I Sing". It left me with the same feeling that I had at May Lundquist's funeral. More like I was at a wedding than at a funeral. We all sang "Arti", the "Arti" that Francis had tuned and worded so well for us.

Then all went to the foot of the grave and threw in a handful of earth and a hibiscus flower. I threw the earth hard and kissed the flower whispering Goodbye and then shouted, "JAI BABA!" I wandered off down the hill towards Baba's House. My head was still buzzing with songs and stories and quotes and plays, as it had been these last 3 days. Along the path towards Baba's House, I was singing: "Being is dying by loving, this is the song which I the dawn am bringing, awake arise for love's dear sake, awake and sing".